In order to exceed their guests' expectations, La Palma is the only Mexican restaurant in Louisiana to grow its own peppers. This process ensures that the flavors that guests experience are fresh, one-of-a-kind and, uniquely La Palma.

The Torres Family, owners of La Palma, provide their guests with a delicious, satisfying reflection of Zacatecas, Mexico with traditional homemade Mexican entrees such as: Tacos Azteca, Sopes, Tamales, Carnitas, and much more. La Palma prides itself on serving these timeless and traditional Mexican dishes in an environment perfect for the entire family.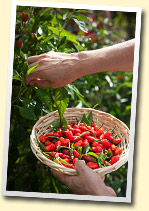 We grow our own
peppers, so you can

Taste the Freshness!